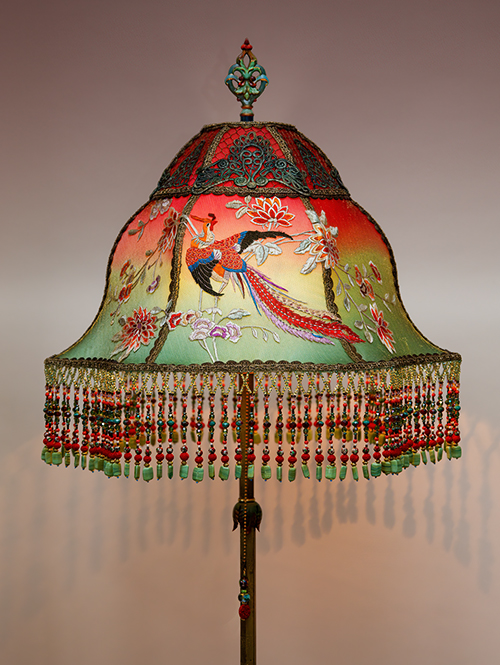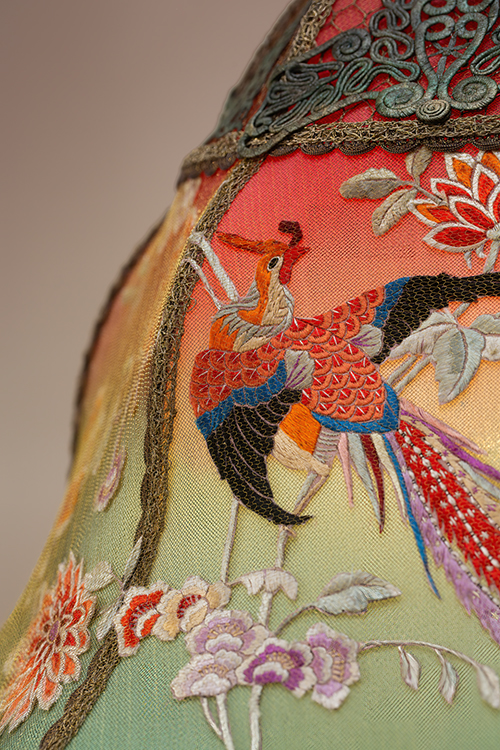 Phoenix Chinoiserie Floor Lamp
#1781
SOLD
Inspired by the combination of Celadon green and red in Chinoiserie design, this 1920s era metal floor lamp has been hand painted and holds a hand-dyed Phoenix Chinoiserie silk lampshade. The shade is ombré dyed from deep red to Peking/celadon green and features nettings and colorful Asian antique floral appliqués in orange red, black, white and lavender. The focal point of this shade is the commanding phoenix that perches amongst all these flowers. The top six panels feature antique soutache appliqués in dark green.
The shade has a long intricate hand-beaded criss-cross patterned fringe in a variety of greens, reds and gold that includes a beautiful cloisonné bead. A very ornate antique finial and a hand beaded jeweled pull chain complete the lamp.
Overall height is 64.5 inches to the top of the finial.
Shade dimensions are approximately 19.5 x 19.5 inches.
$4800.
SOLD

International shipping rates upon request.