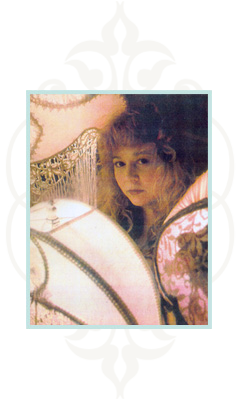 About the Artist
Using a palette of luxurious antique fabrics — along with the magic of combining vintage materials, shimmering beads and light — designer Christine Kilger creates one-of-a-kind lighting that brings a romantic, bohemian elegance to any room.
Featuring exquisite hand-beaded shades, period lamp bases and rare antique fabrics and embellishments circa 1860-1930, Christine's lamps illuminate and grace some of the most beautiful homes in Palm Beach and beyond.
She has followed her passion, traveling around the world in search of rare vintage fabrics and embellishments that she uses to create her lamps. In her Boca Raton based studio, Christine has an extensive collection of antique lamp bases and beautiful vintage fabrics from which she crafts the lamps which have a loyal following.
The design process begins with a hand-dyed silk covered shade that is matched to a restored antique lamp base. Christine's designs are embellished from a veritable treasure trove of antique metallic laces, delicate old silk ribbon flowers, and rare European appliqués. The elegant beaded fringe is a work of art in itself as the pattern is designed and then strung by hand.
Her client list includes Nordstrom, ABC Carpet & Home in NYC, Stevie Nicks, fashion designer Sue Wong, Drea de Matteo, Carly Simon and Courtney Love. Christine's lamps have also appeared in In Style and Where Women Create Magazines.