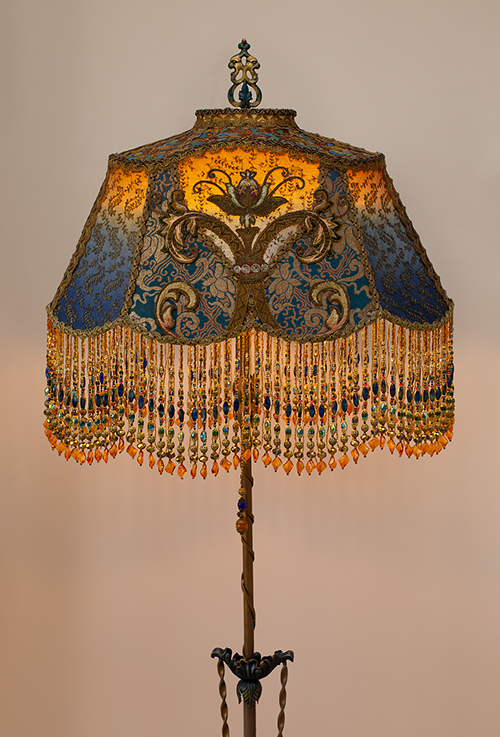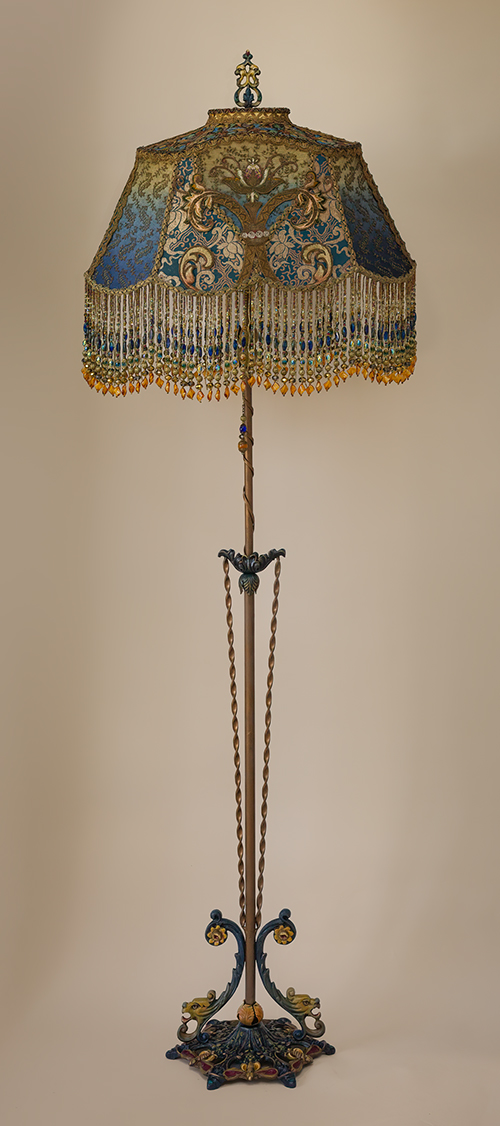 Heraldic Dragonfly and Dragon Floor Lamp
#1770
SOLD
Stately antique lamp with a pair of twirling accent poles features dragonflies and dragon head motifs has been hand-painted and holds a hand-dyed Heraldic Dragonfly and Dragon silk lampshade. The shade is ombré dyed from warm gold to midnight blue and is covered on both sides with an incredible collection of regal antique textiles. The bottom front panels feature a lush gilded brocade circa 1920 and the remaining side panels play a supporting role with a patterned dark net with metallic accents. Both sides of this large shade are adorned with the most exquisite old-world, regal European metal and silk threaded appliqués. The top of the shade features a colorful antique embroidered lace that pulls in some of the accent colors of the brocade and ornate appliqués. The top and cuff are edged in a detailed Victorian beaded trim in jewel-toned beads.
The shade has a long, double-layer hand-beaded fringe in matching colors of gold, deep amber, blue, and greens. The top of the lamp is crowned with an antique matching double-headed dragon finial. A bespoke beaded pull chain adorns and illuminates this handsome lamp.
Overall height is 66 inches to the top of the finial.
Shade dimensions are approximately 22 x 11 inches.
$4600.
SOLD

International shipping rates upon request.