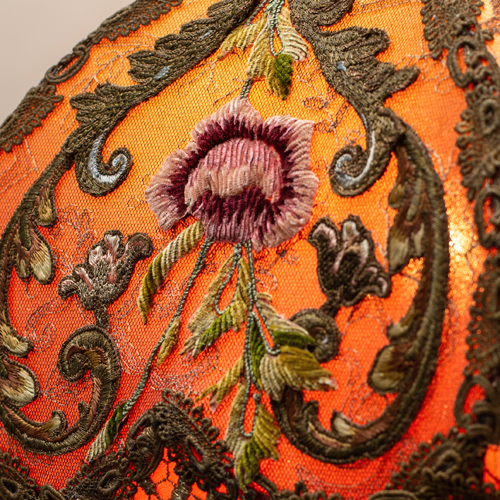 Opulent Victorian Parlor Floor Lamp
#1721
SOLD
An exceptional ornate antique floor lamp has been hand painted and holds a hand-dyed Opulent Victorian Parlor silk lampshade. The shade is dyed Naples yellow to peachy coral and has been artfully covered with an assortment of old world European metallic antique textiles including antique bronze-gold metallic lace and exquisite old world heraldic scroll appliqués. The cuff features heavy almost padded antique metallic lace. The center panels feature antique French chenille rose appliqués in rose, deep red, and a beautiful variety of greens.
The shade has long, hand-beaded fringe in bronze, gold, peach, coral and citron green. A statement finial and a custom jeweled pull chain adorn the piece. This impressive shade lights up beautifully with a warm firelight glow!
Overall height is 64 inches to the top of the finial.
Shade dimensions are approximately 21 x 14 inches.
$4800.
SOLD
International shipping rates upon request.