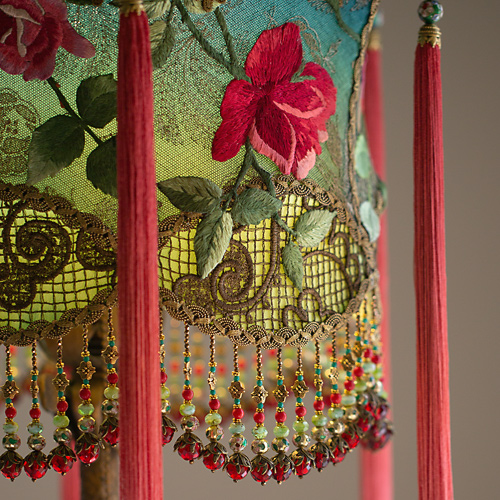 Hong Kong Lantern with Red Roses
#1689
SOLD
Exceptional regal antique floor lamp with dimensional roses, large paw feet and a wonderful hammered finish pole with its original paint! The exotic Chinoiserie inspired silk shade is a Hong Kong Lantern with Red Roses and is ombré dyed from teal blue to spring green with shades of emerald in between and is covered on all sides with beautiful metallic gold net lace and then embellished with beautiful silk embroidered roses from the early 1900s. Heavy bronze lace forms the bottom ovals and the roof panel. The top crown is covered with French vintage silk ribbon.
The shade has extra long, dramatic handmade fringe tassels in red and hand beaded fringe around the bottom in beautiful jewel tones. A pull chain adorns and illuminates the lamp. A vintage metal finial tops the piece. This is a show-stopper!
Overall height is 66 inches to the top of the finial.
Shade dimensions are approximately 18x18 inches.
$4800.
SOLD
International shipping rates upon request.