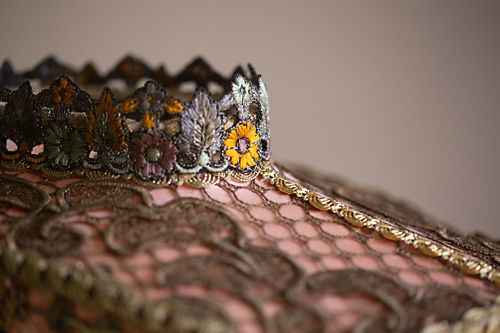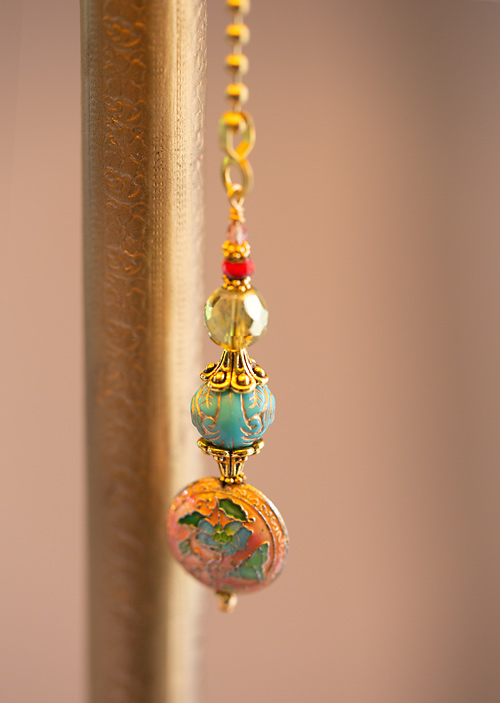 Florentine Peacock Floor Lamp
#1686
SOLD
Exceptional antique floor lamp with ornate Gothic motifs has been hand painted and holds a hand-dyed Florentine Peacock silk lampshade. The shade is ombré dyed from pale coral to light turquoise blue and features detailed vintage embroidered Chinese peacock appliqués on both sides. Open weave French gold netting and detailed antique gold metallic lace overlay the silk panels giving a beautiful glimmer to this large, elegant shade. Four extraordinary and ornate cream blue and burnt orange appliqués surround the sides of the shade.
The shade has long, dramatic hand beaded fringe in matching tones. A customized pull chain adorns and illuminates the lamp. A detailed crested antique finial tops the piece. This is an ornately detailed lamp and one of my favorites in the collection!
Overall height is 66 inches to the top of the finial.
Shade dimensions are approximately 22x11 inches.
$5200.
SOLD
International shipping rates upon request.