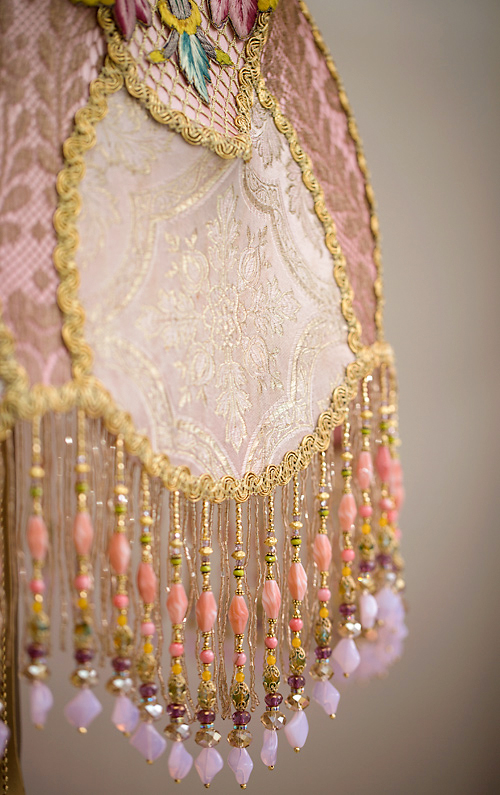 Pink Florentine Floor Lamp
#1679
SOLD
Elegant antique floor lamp has been hand painted and holds a hand-dyed Pink Florentine silk lampshade. The shade is dyed pale pink and has a confection of antique and liturgical textiles in tones of pink, peach, green, gold and silver. Covered in antique net lace with swirling silver metallic scrolls and colored embroidered flowers. The two central top panels are overlaid with 19th Century antique embroidered Gothic pastel appliqués. Below that is a liturgical silk textile in pale pink and gold which is ringed by panels of gilded antique metallic lace. Heavy, long beaded fringe with 24k gold plated beads adorns the bottom of the shade. A jeweled pull chain turns on the lamp. The shade has hand-beaded fringe in golds, pale pinks and greens and Swarovski crystals. This is a romantic, elegant lamp and lights up beautifully with a warm pink light.
Overall height is 64.5 inches to the top of the finial.
Shade dimensions are approximately 17.5 x 12 inches.
$3600.
SOLD
International shipping rates upon request.